Regular price
Sale price
$4.00 USD
Unit price
per
Sale
Sold out
Container size info
You are not dreaming..... This hot pepper evokes with precision the male member.
Of unknown origin, it would probably come from the regions of Louisiana, Texas in the United States or Mexico. Its popularity would be due to Frank X. Tolbert (1912-1984), a journalist-historian from Texas working at the Dallas Morning News (between 1946 and 1984) and writing rather unusual local chronicles.
In English it is called Peter Pepper ( Capsicum annuum var. annuum, "Peter pepper") . On the Scoville scale, it averages 16,500 on the Scoville scale, which means it is hot in taste, but excellent dried or candied.
Its shape is not discreet, it is planted very well in a pot for Grandma's balcony, nothing better to make the neighbors laugh.
View full details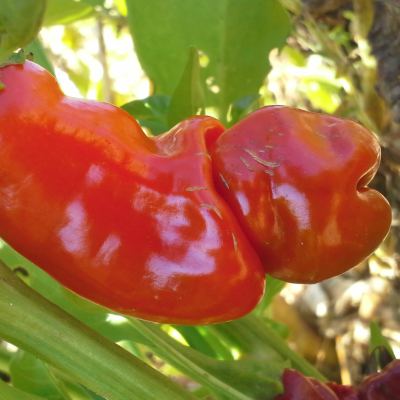 Container size info
The container size selected does not necessarily indicate the size/height of the plant.
Plants will be of equivalent size (for example, 4" pot - minimum 4" plant height), the same with 6" diameter pots.
The one gallon (1gl) and three gallon (3gl) formats are assigned to mature plants or plants that do not require transplanting.
Afin de bien connaitre votre zone de rusticité, nous vous recommandons d'obtenir un rapport précis et un calendrier des semis et plants, adapté pour vous.
Pour obtenir votre rapport de rusticité, en quelques secondes, cliquez ici.
De plus, si vous voulez créer votre calendrier personnalisé qui s'adapte à votre climat et vos choix de semences et plants, en cliquant ici.