Regular price
Sale price
$3.00 USD
Unit price
per
Sale
Sold out
Container size info
Tiny green striped fruits with a delicious and unique flavor. These cucamelons are productive and have great disease resistance. Perfect for snacking, marinating or adding to salads.
Flavor : Sour and bitter taste
Preparation ideas : Use whole in a salad or as a snack.
Seed type : Hybrid
Latin name : Melothria scabra
Sow the seeds directly into the ground once all danger of frost has passed. The soil should be fertile and rich in compost. Can be started indoors before last frost. The roots should be disturbed as little as possible when transplanting. .
Seeding depth: 2cm (1")
Space between plants: 15cm (6")
Space between rows: 90cm (36")
To maximize the space in your garden, we suggest planting corn or sunflower seedlings. This will allow them to be used as tutors.
View full details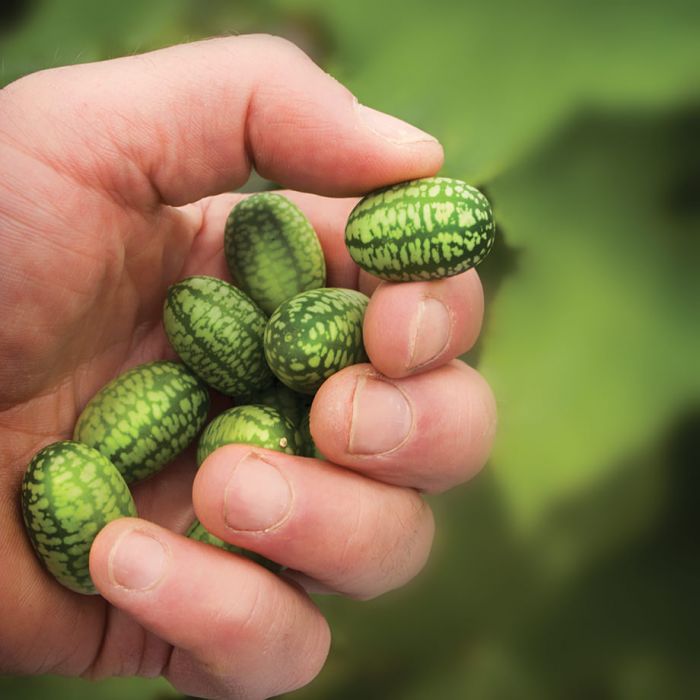 Container size info
The container size selected does not necessarily indicate the size/height of the plant.
Plants will be of equivalent size (for example, 4" pot - minimum 4" plant height), the same with 6" diameter pots.
The one gallon (1gl) and three gallon (3gl) formats are assigned to mature plants or plants that do not require transplanting.
Afin de bien connaitre votre zone de rusticité, nous vous recommandons d'obtenir un rapport précis et un calendrier des semis et plants, adapté pour vous.
Pour obtenir votre rapport de rusticité, en quelques secondes, cliquez ici.
De plus, si vous voulez créer votre calendrier personnalisé qui s'adapte à votre climat et vos choix de semences et plants, en cliquant ici.